Meditation Books by Tom Von Deck
Oceanic Mind - The Deeper Meditation Training Course
Oceanic Mind provides more than 60 meditation techniques and other mind body exercises plus lots of tips for making meditation a much much easier and more customized process for people of all backgrounds, spiritual or secular.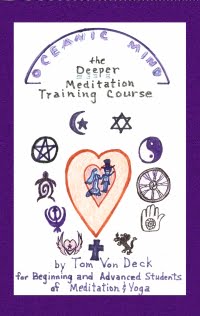 Many people are busy and don't believe that they have the time to "stop for gas" and renew themselves. If this sounds like you, you're covered.
This was the top selling meditation/yoga book in the Kindle Store for a full year. The sales rank was in the top 1/10 of 1% of all Kindle books during all of 2012. 
You can find Oceanic Mind at the following links:
Oceanic Mind Paperback on Amazon
Get it free with the audio course (see below).
For Amazon users outside the USA, you change the ".com" with the extension in your country (e.g. .co.uk or .it), and you will find the appropriate page.
The Deeper Meditation Audio Course
The Deeper Meditation Audio Course is the 400 minute (6hr 40 min) companion to Oceanic Mind. It is also a complete standalone course in itself.
The course features the same exercises, and it also clarifies further all the concepts of Oceanic Mind.
It's 65 MP3 files in a zipped folder. 138 total Megabytes. Higher bitrates are available if you ask.
UPDATE as of October, 2021: I have dropped the price to $17 USD for a short time. After this, it will only be available as a library within an online group coaching program. 
You can order the audio course securely using the button below. Instant download.
There's a full money back guarantee in case you're disappointed for any reason.
"Hi Tom, your meditation audios are astonishing. Thank you. It's the best media-based meditation course I have ever seen — and I've seen a lot of them. It's simple, elegant, effective. Your explanation is honest and authoritative."
– Andre Nasser, Rio de Janeiro, Brazil via Facebook